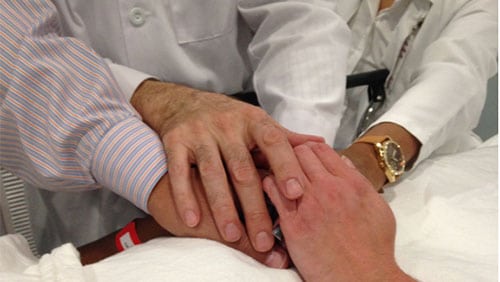 A gentle touch of the hand conveys compassion, understanding, care, warmth and love. This is the basis of our Integrative Medicine Department at Michigan Reproductive Medicine, which is headed by Donna Pascaretta, RN-BSN.
We understand that fertility treatments can be very stressful on a couple. Our everyday lives are demanding and adding fertility drugs and treatments can add even more tension.
We would like to invite you to experience Reiki Therapy, Healing Touch and Massage Therapy to help manage stress. Our integrative medicine techniques are performed by nursing coordinator, Donna Pascaretta, RN-BSN, who is licensed for Reiki and massage therapy .
Reiki Therapy
Reiki is an ancient Japanese healing technique that is performed in a systematic way. The practitioner places hands on the body and in the energy field. Patients report a feeling of profound relaxation, peace and calmness. Sessions are for 50 minutes.
Healing Touch
Healing Touch is a touch therapy that is similar to Reiki. The practitioner places hands on the body or in the energy around the body. Many different modalities are included in Healing Touch over the course of 50 minute sessions.
Massage Therapy
Donna is a licensed massage therapist and specializes in Gentle Deep Tissue Massage calming the nervous system, stimulating the sensory nerves, removing excess tension from the muscles, and boosting blood and lymph circulation. Sessions are 30-60 minutes.