We understand there are many challenges associated with overcoming infertility, and a financial problem should not be one of them.
Insurance Information
We recognize that understanding your insurance benefits can be challenging. Our goal is to help you be informed about your coverage and responsibilities, our fee schedules and payment options. Prior to your appointment, we recommend that you contact your insurance company or Human Resources department to understand what fertility-related services are covered under your policy. You should also be aware of your policy's copay, coinsurance and deductible requirements.
Participating Insurance
Beaumont Employee Health Plan
Blue Cross Blue Shield
Cigna (except HMO products)
Health Alliance Plan
You are responsible for any copay, coinsurance, deductible or non-covered services on the date of service. Per our insurance contract, we are required to collect these charges and may not write them off.
Non-Participating Insurance
If you have insurance with which we don't participate, then you will be responsible for all charges for services performed at our office. Payment is due at the time of service. As a courtesy, we will send claims directly to your insurance company with instructions that all payments should be sent directly to you.

What if I Don't Know What my Insurance Covers?
When you come to Michigan Reproductive Medicine, after meeting with your doctor, you will receive a personalized financial consultation with one of our front office coordinators. At that time, we will look at what your doctor is recommending, what options you are considering, what type of insurance coverage you have, and what may or may not be covered.
With all of this information, we will work with you to develop a detailed cost-effective plan. At that time, we will give you the information and codes you need to understand what your specific insurance policy should cover in case you need further details from your insurance company or if something is wrongly denied and an appeal is necessary. We are with you every step of the way. Our goal is to help you have a baby and still have money for a beautiful new nursery or a nice vacation!

What if I Don't Have Insurance?
We will work with you to develop a personalized plan to pay for the services you need. We can look at discounts and/or health care financing. We can also research organizations that offer infertility "scholarships" for certain situations. Once you have met with your doctor, we will work with you to make the services you choose as affordable as possible.

Discounts at Michigan Reproductive Medicine
We offer discounts for teachers, police officers, firefighters, and members of the military for non-covered services or non-participating insurance. We support efforts to get Congress to allow universal IVF coverage. For our military veterans, we offer discounted IVF services to compensate for the federal prohibition against IVF coverage.  If you have no infertility benefits or have no insurance at all, we will do our best to work with you so that you can get the treatment you need.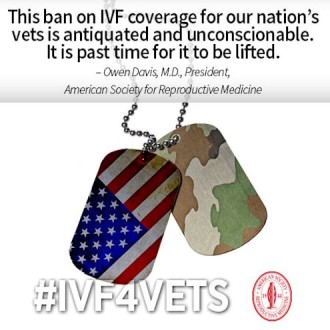 Finance Options
We can also provide financing, package pricing plans through ARC (Advanced Reproductive Care, Inc), the nation's largest network of fertility specialists committed to making the cost of fertility treatments predictable and affordable.
Michigan Reproductive Medicine is a member of ARC, and together, we are dedicated to providing the highest quality patient care, ensuring clinical excellence through the practice of evidence-based medicine and offering patients the best, most affordable financing options.
With ARC, a number of options are available for patients to consider:
Affordable and Predictable Fertility Treatment Packages
Financial Options, Including Payment Plans
Pharmacy Financing
For additional information about these options, please call ARC's toll-free number 1-888-990-2727 or visit the ARC website.
Contact ARC
To find out more about ARC's financing options, please call their toll free number: 888-990-2727, or visit their contact page to see which options you can utilize to make your fertility treatment the most affordable, while minimizing your financial risk.

Pharmacy Discounts
EMDSerono Compassionate Care Program
This program offers benefits for patients with demonstrated financial need and a valid prescription for Gonal-f (follitropin alfa for injection), Ovidrel PreFilled Syringe (choriogonadotropin alfa injection), or Cetrotide (cetrorelix axetate for injection) at participating pharmacies.
Patients may save 25%-75% off the available self-pay price at the participating pharmacy. It is available for multiple cycles within each year, though patients must re-apply each year. This program cannot be combined with any rebate, coupon, free trial or similar offer, and requires a valid prescription.
The Compassionate Care Program covers the following products:
Gonal-f RFF Pen 300 IU
Gonal-f RFF Pen 450 IU
Gonal-f RFF Pen 900 IU
Gonal-f Multi-Dose 450 IU
Gonal-f Multi-Dose 1050 IU
Gonal-f RFF 75 IU
Cetrotide .25 mg
Ovidrel PreFilled Syringe 250 mcg