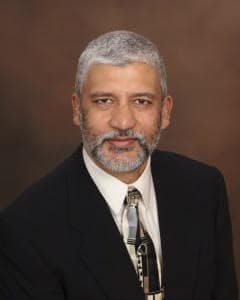 Dr. Manny Singh has had private practice experience in Texas before coming back to Michigan and joining Michigan Reproductive Medicine. He was the interim Division Director of the division of Reproductive Endocrinology and Infertility and the Medical Director of the Wayne State University Physician Group in Southfield, Michigan till 2015. He had the rank of Associate Professor in the Department of Obstetrics and Gynecology at Wayne State University School of Medicine.
Dr. Singh is a graduate of New York University and The New York Medical College. He completed his residency in Obstetrics and Gynecology at Maimonides Medical Center in Brooklyn, NY, followed by a fellowship in Reproductive Surgery at Union Memorial Hospital in Baltimore, and a Reproductive Endocrinology & Infertility fellowship at the University of Louisville School of Medicine.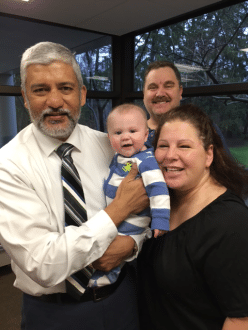 Prior to joining Wayne State University School of Medicine faculty in 2009, Dr. Singh held faculty positions in the Division of Reproductive Endocrinology and Infertility at Upstate Medical University in Syracuse NY, and William Beaumont Hospital in Royal Oak, MI. Dr. Singh also maintained a significant private practice: Houston Fertility Institute from 2007 – 2009 in Houston Texas.
He has published extensively in reproductive endocrinology and infertility and has been a principle and co-investigator of many research studies sponsored by the NIH and private companies. He has received multiple awards through his residency and later as a faculty member.
Dr. Singh has special interests in reproductive endocrinology and infertility:
Patient Testimonials for Dr. Manny Singh
We were diagnosed with 'Unexplained Infertility' by a couple of doctors. We had a few failed clomid cycles with other infertility clinics. Every window of opportunity turned out to fail. We were desperate to start a family and wanted to begin to enjoy the experience of being a parent. We were seeking out an experienced well-trained infertility physician in a reputable infertility clinic who could make our dream of having a child come true.

We were referred by our gynecologist to a highly specialized and skillful physician, Dr. Singh.

After our initial consultation, we felt that Dr. Singh and his team could get us a successful result. After just a single cycle of IVF we conceived!!! We had no problems…a day that we long waited for!!!

The IVF treatment by Dr. Singh was very organized and we received the best care. Due to their dedication to their patients and by God's grace we really have a chance now to realize our dream.

We do not really have enough words to thank them. They are just amazing people!!! We shall be forever thankful for their services. – U and M
Wow, where do I start! My husband and I have been married for 18 years. We have been trying for a family from the beginning and unfortunately have been unsuccessful due to damage to my fallopian tubes from a tumor and multiple cysts I had when I was in my teen years. I had several surgeries to try and repair the damaged with no success. We had been seen by several fertility specialists. They all told us the same thing; "you will never be able to conceive naturally". That was very hard to hear.

After an unhappy experience with another clinic, without its own lab, we consulted Dr. Singh. From the beginning I knew that he was what we were looking for. He took the time to look at all of my fertility history and the prior unsuccessful IVF attempt and came to the decision that my fallopian tubes need to be removed because they were not helping me to conceive but were even part of why my first IVF did not take. Dr. Singh performed a laparoscopic surgery to remove my tubes and I actually felt better than I had in a long time. I recovered quickly from this surgery. We were able to start IVF about 6 weeks later.

Everything was performed in one facility, and there was almost no pain associated with this procedure. The end of June we were given the amazing news that it worked! My husband and I were both overcome with joy and gratitude to doctor Singh and the wonderful staff. We have experienced nothing but true professionalism and expertise, and. Dr. Singh has been in touch with us throughout my pregnancy to ensure everything is going well.

I am now in my 7th month of pregnancy and can't wait to see this little miracle baby!

I can't put into words how thankful my husband and I are to Dr. Singh and the amazing staff! Thank you so much! – H.C. and C.C.
After a lot of searching I was referred to Dr. Singh. My wife and I had previously experienced three failed IVF attempts with another provider and were suffering emotionally and financially, afraid that there was something wrong with us or that it would never happen. Dr. Singh and his team were extremely professional, and within two months of our first appointment, my wife was pregnant with twins. Just like that!

All tests and procedures are performed on-site and the fees were very reasonable. They did not waste time with unnecessary tests or delays and we were never kept long in any waiting rooms nor were we ever rushed when we had a million questions. My wife and I were treated with dignity by an experienced and caring staff focused only on achieving a pregnancy. They stuck by us through the long, difficult and painful process of IVF and succeeded where others could not.

They are winners. – B.W. & G.W.
I'm not sure how to go about describing my experience with Dr. Singh since it's impossible to put the eternal gratitude my husband and I feel into words. I have a two year old daughter and am pregnant with our second child – all thanks to Dr. Manny Singh. Manny and team are highly experienced, dedicated, sincere and genuinely want to see every woman have the family she dreams of. Dr. Singh's knowledge and quiet confidence were a tremendous comfort to us as we went through IVF due to tubal infertility; his nursing staff was warm, caring, and ready to assist with my calls and questions anytime. – JS
After multiple unsuccessful IVF attempts at other institutes, we contacted Dr. Singh. This time resulted in a success and I am half way through my pregnancy. I would like to thank Dr. Singh and the entire staff for their care and support during this period. –SC
We came to Dr. Singh after being told by another highly recommended infertility specialist that our chances of conceiving a biological child, even with IVF, were extremely slim.

Dr. Singh was much more optimistic about our chances of successfully conceiving with IVF and we quickly realized that with the combined experience of the physicians, nurses and laboratory technicians, the team could do for us what other fertility clinics would not be capable of. We immediately decided that Dr. Singh and the team were a good fit for us and two months later we began our first IVF cycle. Although undergoing an IVF cycle is physically and emotionally draining the nurses and doctors that we worked with made the process much easier for us with their support and accessibility. We were ecstatic when we conceived our son on our first IVF attempt. We recently had our baby and cannot thank Dr. Singh enough for helping us to have the family we dreamed of. We plan on returning in a few years when we are ready to add to our family again! – RM